Health Water Taxi – Now on Lake Kivu!
The vision has become a reality - a speedboat/water taxi to provide visits of health professionals to South Idjwi Island and to bring Idjwi pregnant women to health services on the mainland! Many of you were part of making this happen!
The vision:
Our partner Idjwi Initiative, led by Congolese professionals and based in Bukavu, eastern Congo, has been clear since its inception about two things: The stark infant and maternal mortality rates on South Idjwi Island can be vastly improved by providing access to quality health services; and the way to do that responsibly is to establish a revenue-generating method within Idjwi Initiative to ensure funds to build and sustain those services on Idjwi Island over the long-term. A health water taxi makes both of these things possible.
Partnership with Idjwi Initiative:
In October 2015, Mwendo Congo made a commitment to support Idjwi Initiative's plan to purchase a health water taxi. After twenty months of dedicated work by both organizations, along with Minnesotan and Congolese Rotary Clubs, the financing of this life-saving project was completed. Mwendo Congo provided a $31,500 grant to Idjwi Initiative in June of this year. Combined with other funding sources, Idjwi Initiative had the full amount necessary for purchase of a boat. Thank you for your part in making this possible!
Saving lives:
The health water taxi will provide immediate benefit to pregnant women of South Idjwi Island by safely transporting them to medical facilities for skilled attention during and after the delivery of their babies. This will save lives. The maternal and infant mortality rate on South Idjwi Island is one of the highest in the world. The boat will also operate as a water taxi on Lake Kivu, and all profits of the water taxi operation will be used to support the health work of Idjwi Initiative.
A boat for Lake Kivu:
In July 2017, two Board members of Idjwi Initiative traveled from Bukavu to Dubai to inspect the 30-passenger water taxi before finalizing the purchase.
After the visit, Idjwi Initiative President Pastor Christian Mubonzi wrote,
"The boat is of very good quality. The most important detail of the boat is the compartmental construction of its hull. This means that if there is a hole in the hull of the boat, the water will just fill the impacted compartment and not the entire hull. There is [currently] no boat in Bukavu that has this level of safety. This is a crucial point for marketing! Who will not love to travel in a boat that cannot sink?
It is with a sense of gratitude, peace and great joy that we will offer Idjwi pregnant women safe transport to hospitals where they can give birth under the assistance of qualified medical personnel. AMEN.
Alone, we would not be able to do it. Thank you very much for good collaboration and support - material, moral and spiritual."
The journey to Lake Kivu:
In January 2018, Idjwi Initiative board member Dr. Eric Brahimu traveled to Dubai for a sea trial of the newly constructed boat and to make plans for its transport to Bukavu. In February, the boat was loaded and sent on its way! After traveling across the Indian Ocean from Dubai to Dar es Salaam (Tanzania) in an open container, the boat was lifted onto a flatbed truck for the overland journey through Tanzania, Rwanda and finally, into the Democratic Republic of Congo. On March 30, 2018, the boat was lifted from the flatbed truck and onto Lake Kivu! Many Idjwi Islanders were present to witness the event.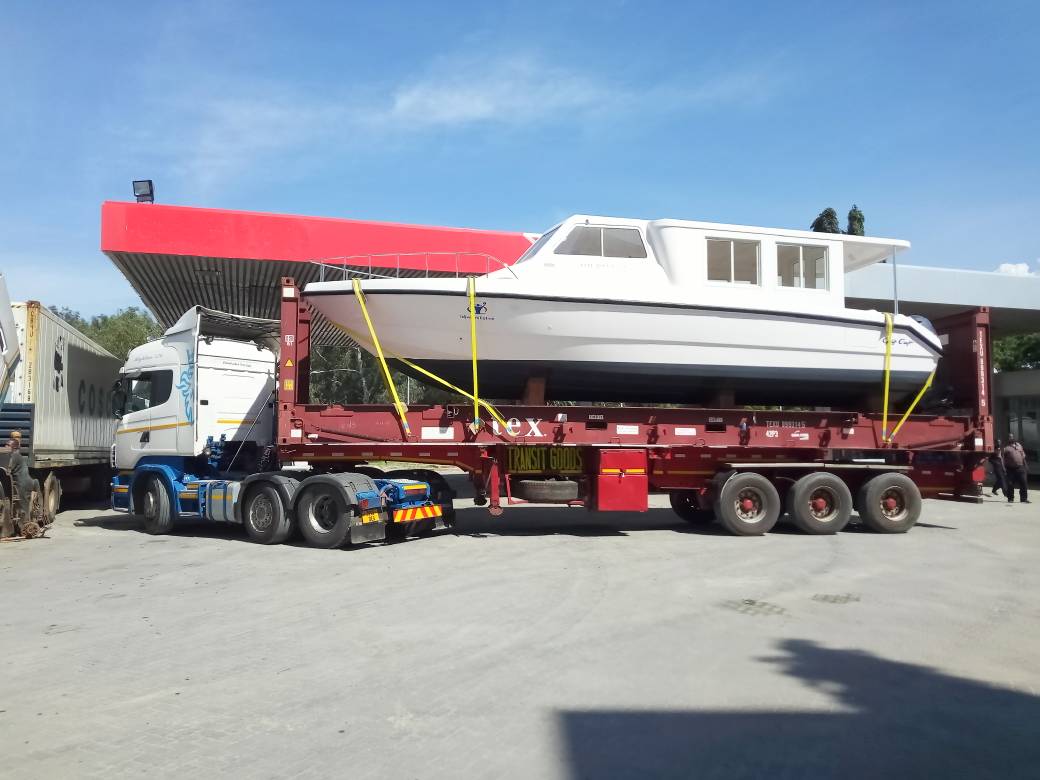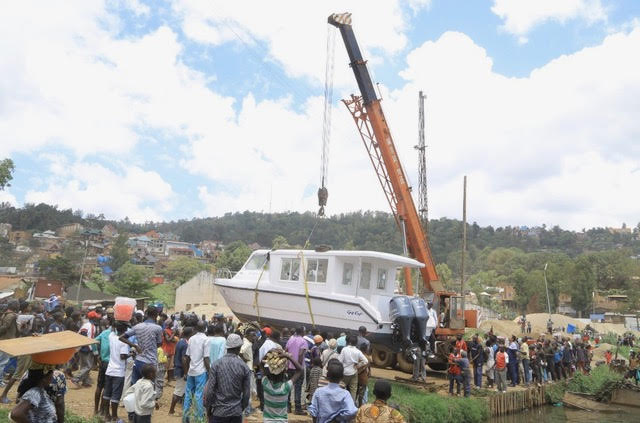 Pregnant women of South Idjwi Test-Ride the boat and Water Taxi Service Begins!
In June 2018, the boat was fully registered and licensed to operate on Lake Kivu! The boat traveled to Idjwi Island to take islanders, including several pregnant women, on a scenic tour. Watch the video of their excitement! Soon the first cohort of pregnant women will be transported to a medical center for delivery of their babies.
On June 25, 2018, the boat began operating as a water taxi, making one Bukavu-Goma round trip per day. Individuals and NGOs operating in eastern Congo are encouraged to use the services of this well-equipped boat for their personal and business transportation needs. All profits support the life-saving work of Idjwi Initiative.
Message From Our Partners
The chairperson of our DRC partner organization Idjwi Initiative, Pastor Christian Mubonzi, reflects on the challenges and blessings of their work --

"There is never a perfect time to accomplish a project when living in a war zone. We have wars, we hide, some survive, we count our losses, realize the grace we have to still be alive and then we go back to work and continue to work harder. This is the only way... We are truly blessed to be part of this project that will change lives. We can not wait to take on the speedboat the first pregnant woman from the island of Idjwi and be part of her journey of giving life. This thought alone gives us the courage to continue working harder.
"Thank you very much for your prayers, support and encouragement. We really appreciate them."

Mwendo Congo friends like you contributed funds that made the purchase of a water taxi possible!